Select File.
>...
>...
>...
> Rachel Elizabeth
:: Rachel Elizabeth Selected.
Loading Dossier File.
Loading...
Loading...
Personnel Identification Information.
Personnel Identification Image: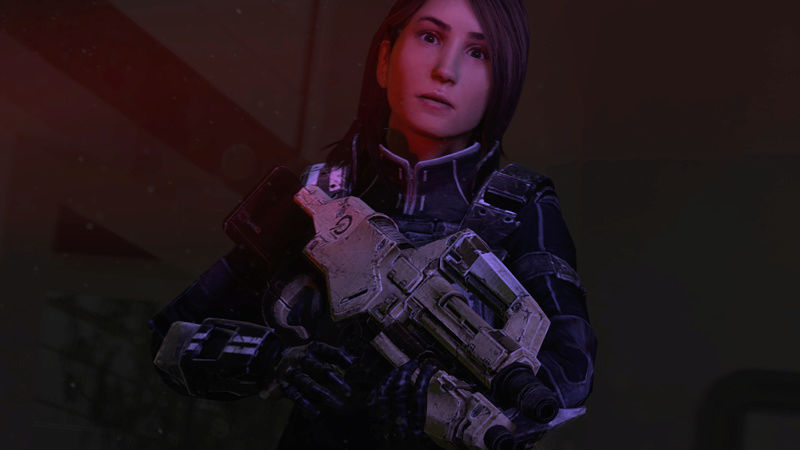 Unit Name:
Rachel Elizabeth
Unit Aliases:
'Red', Liz
Unit Gender:
Female
Unit Species:
Human
Unit Ranking:
Specialist
Service Tag:
18255-96328-RE
Physical Appearance: 5'11|Above Average Build|Late Twenties|Neck Length brown hair|Green Eyes|Alliance Uniform|
Vocal Sample: https://www.youtube.com/watch?v=Ja9Qj-IUU-w
Agent Carolina - Red Vs Blue
___________________________
Personnel Military Information.
Training: Basic Training, System Specialist Training, Leadership Training, Maintenance and Repair Training, Xenobiology, Biology, Intelligence and Operational Control
Assignment:
2nd MSRC, SSV Constantinople
Operational Status:
Active Duty
Previous Service(s): SSV Houston, Alliance Headquarters in New York City, Alliance Flagship (Due to Attack on Earth)
MOS/Specialization: 183X Intelligence Liasion
Combat Abilities(2): Recon Drone, Homing Grenade
Awards and Decorations: Combat Action Ribbon, Navy E Ribbon, Alliance Defensive Service, Galactic Unit Citation
Battle/Engagement Record: Geth Mop-up Operations (2183), Collector Abduction Campaigns (2183-2185)
Casualty Classification: [N/A unless you are KIA/WIA]
Time In Service(s): 8

___________________________

Organization Relationships.

Faction Allegiance:Systems Alliance
Listed Liked Factions: Turians, Asari, Quarians
Listed Disliked Factions: Mercenary Factions, Turian Military, Salarians, Geth
Listed Neutral Factions: All unless listed
Hostile Factions: Cerberus, Collectors

Personal Relationships.

Flynt Thatcher - I got a message from Morello shortly after finding out what had happened to Flynt, and all I can say now is that if I see this man again, I will never forgive him for what has happened.

Diogo Stolarz - The ship's pilot, I interacted with him quite a bit recently, he's a bit of an oddball but he is a funny individual and a fantastic pilot. I'm glad to have him be apart of the crew

Kyle Vernon - Ever since we got back from our last deployment, I have looked at Vernon in a new light, he is dependable and I am truly honored to serve alongside him.

Lieutenant Commander Adande Greene - Adande is one of the most unique officers I've had the pleasure to serve under, he acts extremely differently than most officers, treating his marines more as a family than as a unit, but he still maintains that level of discipline needed in the unit. He cares deeply for each soldier under his command and is more than willing to put himself at risk to keep us safe.

Virlin Valilith - Val, despite getting a literal fire hydrant thrown at him, is a dependable and tough Turian who I'd trust to have my back anyday.

SSV Houston Crew/Captain Steele - My first official Combat Posting, the Houston and her crew were heroic fighters and good friends, I was happy to hear they escaped Earth and are now fighting the good fight against the Reapers.

'Connie' - The ship's VI, she's friendly and extremely helpful to have around on the ship, I've been working with her closely as part of my job as Intel Liaison and she even joins us on the field, providing tactical and combat assistance when we need it.

Martin Banner - Although I have overheard a few marines making small jokes that Banner is actually the Grim Reaper in disguise, my view of him has changed since I first met him. Banner's tough, strong and cares for his marines in his own unique way, he even took me aside to ask how I was feeling when Flynt departed the crew and it made me see him in a new light, we actually agreed on a lot of things and I respect him all the more for it.

Sam Chevalier - Chevalier is a strong, and talented leader in our unit, and still cares for those under his command, and whilst I don't completely agree with how blunt he can be sometimes, everyone does need that dose of reality, and we both agree on that some people in this unit need it more than others.

Vicky Morello - Vicky is...unique, at this point. She's always doing her best in the field and is very protective of everyone in this unit, as well as trying to help care for them mentally, however she unfortunately does let emotions get the better of her judgement at times and it has caused some disagreements in the unit, Vicky has the potential to be a fantastic soldier but she needs to learn to keep her emotions in check.

Draven Miller - Christ...Miller is the strongest person on this crew in my opinion, during our deployment he took everything the Reapers threw at him and made it back through sheer force of will. I have so much respect for him and hope he makes it through this war in the end.

Lost Comrades and Friends

Irini Sykes - One of my first friends upon coming aboard the Constantinople, she was full of life and a general joy to be around in the field. She always tried her hardest and I feel if she were still here that our friendship would continue to blossom, I'll miss you Sykes.
_______________________________

Personal History.

Born in 2165, Rachel Elizabeth was born to a Military family, born aboard the Systems Alliance Frigate, the SSV Caen, to Mercury and Jane Elizabeth, and their three year old son Kyle Elizabeth. Elizabeth's family served on a variety of warships, causing both Rachel and Kyle to become more and more attached to military life, even going to the point when she was old enough, Elizabeth enlisted in the Alliance Marines, while her brother enlisted in the Alliance Fleet three years prior.

Before enlisting in the Marines, Elizabeth worked in New York City back on Earth, it would be one of the only times she ever stayed planetside for a decent amount of time. During that time she met Flynt Thatcher, who intervened when she was being harassed by a drunken man. After meeting the then homeless Thatcher, the two became great friends, and despite Elizabeth's best efforts, she couldn't find any opportunities for employment for her friend. After a few years, Elizabeth joined the marines alongside Thatcher, with her friend specializing in CQC tactics, the two parted ways upon enlisting.

Rachel showed an aptitude during basic training for caring for her fellows, both in exercises and classroom studies, always willing to offer a helping hand to those who needed it. This caught the attention of her instructors, who made her a fireteam leader during her time at basic training. Upon graduating, she was posted aboard the SSV Caen once more, where she served under Captain Jace Tryan. The Caen was responsible for mostly guarding convoy routes, causing Elizabeth to not face much combat during her time aboard it.

During Training, Elizabeth studied Xenobiology, Biology and as well as advanced intelligence gathering and operational control courses.

Several years later, she received, shortly after the Battle of the Citadel against Sovereign and the Geth, she received a letter from the Alliance, notifying her that both her Parents, and Kyle had been killed during the battle, all three were serving aboard Alliance Cruisers that were destroyed when they attacked Sovereign. Impatient to wait any longer, she put a transfer in to a frontline post, which was quickly accepted and she was sent to the SSV Houston, where she served alongside it's marines as a Tech Specialist, encountering the horrors that the Geth heretics inflicted upon its enemy. The SSV Houston, being apart of a Citadel Task Force, was under the command of a Turian Admiral, who was apparently always willing to sacrifice ships and soldiers if the need called for it. During one operation, Elizabeth and her team were almost killed when the Turian Admiral ordered two Cruisers to bombard a position from orbit that her team was attacking. The Admiral dismissed Captain Steele, the commander of the Houston, when approached on the subject.

Elizabeth would continue her service onboard the SSV Houston, participating in combat against the Collectors on one occasion before being transferred back to Alliance Command on Earth as a Intelligence Analysis Specialist.
Last edited by Sargo922 on Mon Mar 05, 2018 12:08 pm; edited 9 times in total

Sargo922

Canuck




Posts

: 88


Join date

: 2018-02-09


Age

: 23


Location

: Canadialand




Sargo922

Canuck




Posts

: 88


Join date

: 2018-02-09


Age

: 23


Location

: Canadialand




Sargo922

Canuck




Posts

: 88


Join date

: 2018-02-09


Age

: 23


Location

: Canadialand




Sargo922

Canuck




Posts

: 88


Join date

: 2018-02-09


Age

: 23


Location

: Canadialand



---
Permissions in this forum:
You
cannot
reply to topics in this forum