>...
>...
>...
> Vikerson, Greger
:: Greger Vikerson Selected.
Loading CSV File.
Loading...
Loading...
Personnel Identification Information.
Personnel Identification Image: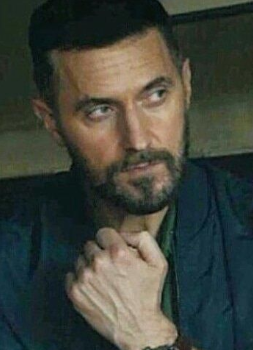 (Greger Vikerson during briefing)
Vikerson observing training:
Name:
Greger Vikerson
Known Aliases:
'Gregor', 'Gregers' (Family)
Gender:
Male
Ranking:
Staff Sergeant
Religious Preference:
Lutheranism
Homeworld/Province:
Arcadia, Procyon System
Spoken Language(s):
UNSC Standard English, Nynorsk-Bokmål (Family taught)
Service Tag:
94313-51024-GV
Physical Appearance:
A 6'6ft tall man with a short, kept beard and black combed hair. He has blue eyes and seems to have several, small scars on the right side of his head, slightly covered by hair now. He speaks with a deep but smooth tone of voice. He has a muscular endomorphic build. His eyes are a strange, greyish color.
Vocal Sample:
Juhani Otso Berg - Assassin's Creed
(Starts at 5:50)
___________________________
Personnel Military Information.
Training:
 UNSC Basic Training, UNSC NCO Training, Several non-official training scenarios.
Assignment:
8th MEF, 8th MEB, 36th Marine Regiment, Fox Reconnaissance Platoon
Operational Status:
Active Duty
Previous Post(s):
95th Infantry Division
MOS/Specialization:
'Battlemaster'/Weapon Specialist
Awards and Decorations:
Combat Action Badge (2492) Purple Heart (2492) Prisoner of War (2513) Bronze Star (2529) Meritorious Service Medal (2536) Expeditionary Medal (2541)
Battle/Engagement Record:
Battle of Hat Yai, Insurrection skirmish on Eridanus II (Captured, Freed later by 9th Marine Expeditionary force.) Battle of New Constantinople, Siege of the Atlas Moons, Innie Skirmishs on Arcadia, Numerous URF battles and skirmishes.
Graduating Class:
2490
Casualty Classification:
[N/A]
Time In Service:
Enlisted 2490 - 2513*, Reenlist 2516-2547
*Note*:

*Greger Vikers demoted and relieved of service for two-three years.
___________________________
Organization Relationships.
Faction Allegiance:
United Nations Space Command Defense Force
Listed Liked Factions:
United Earth Government : Marines
Listed Disliked Factions:
United Rebel Front, Office of Naval Intelligence :
Listed Neutral Factions:
[N/A] : 'Spartans', ODSTS,
Hostile Factions:
The Covenant, Hostile Rebels
Personal Relationships.
Loved:Respected:Daniel Walsh:
"I don't trust any ONI spooks, That's just something you tend to learn when you've served as long as me. But, with the Commander here on board also in the field of 'intelligence'. I guess that he's here for a good reason."
-|-
I'll give her your regards, Lieutenant. You survived a beam from a Scarab long enough for us to send you off. Rest easy."
Friend:Liked:James Banner:
"Banners seems to know what he's getting into with how he likes to be relaxed around his men. I don't know if I'd chalk it up to wanting his men to feel more at ease so the stress kicks in with the Covenant, or he's just playing them."
-|-
"Banners a hard bastard to keep down."
-|-
"Banner embodies the sort of leader I want most men I've met to be. He's not afraid to laid down his life for his men. He isn't a machine. He's all Human spirit. He faced down a Warlord and nearly died. I hope he makes it through, for the unit, And to prove me wrong about what I thought of him before."
-|-
"Hell, it's been forever since the muck that transpired on Phoenicia. Glad to see your fire hasn't dimmed one bit. It's about time we got back in business. Just wish we still had all of the old crew with us."
William Osborne:
"One of the original 'Helljumpers' that came with Walsh. I don't fairly much care for the other because of his terrible personality. But Osborne has his head on straight and he's full of optimism. I have to thank him for setting me straight after what happened to Banner. Wouldn't of been good for the crew to see me in the way that I was."
-|-
"Looks like we're in your area of operations now 'helljumper'. I'll try not to make ya look bad during the first drop."Acquaintance:
Douglas Caster:
"I don't know much about Caster, He's one of the newer additions, a bit after Meridian's training. He's a good medic but I've hardly talked with him. Seems to keep to himself."
-|-
"I'm sure he's being useful out there, somewhere."
NeutralMorgan Shield:
"I don't know much about Shield. He did pretty damn good in the exercise on Meridian. But that didn't prepare him for what we'd find down here on New Phoenicia. Sorry you had to go through that mess. You'll get better though."
-|-
"It's about time you lost that damn arm. Every single Covie bastard seemed to have taking a liking to fucking it up. Sorry you lost it though. But you're tough, and I'll be needing it until this war is over."
-|-
"Haven't seen Shield in a long time. Don't know if he's even still on the ship. Hope he is. Could use him now that we're back in business."
Detractor:
Disliked:
Hated:
Despised:
Feared:
_______________________________
Classified History
Last edited by Kravis on Tue Oct 01, 2019 4:12 pm; edited 3 times in total

Kravis

Lead Coder




Posts

: 297


Join date

: 2018-01-12


Age

: 23


Location

: Santa Fe, Texas




Kravis

Lead Coder




Posts

: 297


Join date

: 2018-01-12


Age

: 23


Location

: Santa Fe, Texas



---
Permissions in this forum:
You
cannot
reply to topics in this forum