Select Dossier File.
> Wolff, Michael
> Marshall, Leon
> Arglack, Raik
> Talvoc, Co'rek
:: Co'rek Talvoc Selected.
Loading Dossier File.
Loading...
Loading...
Personnel Identification Information.
Personnel Identification Image: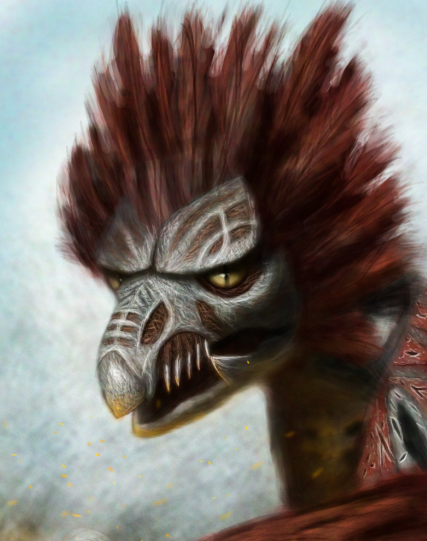 (Photo of Co'rek during the Imperial Civil War following the years after the Reaper War.)
Name:
Cor'ek Talvoc
Aliases:
'Father Cor'ek' 'Bird'
Gender:
Male
Species:
Raloi
Age:
51
Origin:
The Homestead, Sky Cluster, Wingspread Expanse (SAT-LINK)
Ranking:
Specialist
Identification Tag:
61231-02186-CT
Physical Appearance:
A 5'8ft tall Raloi with deep, orange eyes, crimson red feathers and graying skin. He wears a new set of armor made by Armax Aresnal that's been custom designed to his personal preference. When not wearing this armor however he wears a ceremonial cloak over his bodysuit that has two pins that have a religious emblem and a familial emblem.
Vocal Sample:
(Talon Lord Terrok - WoW)
___________________________
Personnel Training/Experience Information.
Training:
 Raloin Imperial warrior training, Fushan Guerrilla training, Takka Martial Arts practice
Assignment:
2nd MSRC
Operational Status:
DEACTIVATED
Previous Occupation(s):
The Homestead, Heart of the Fushan Resistance
Specialization:
Saboteur: (Tactical Cloak, Recon mine)
Awards/Decorations:
Purple Heart (2186)
Battle/Service Record:
Imperial Civil War(2186),
Date Joined:
2226
Casualty Classification:
K.I.A
Time Within Company:
~1 Month
___________________________
Organization Relationships
Faction Allegiance:
Fushan Reformists, 2nd MSRC
Listed Liked Factions:
Turian, Human, Krogan, Asari, Quarian:
Listed Disliked Factions:
Vorcha, Imperial Raloi:
Listed Neutral Factions:
Hanar, Elcor, Volus, Drell, Geth:
Hostile Factions:
Pirates, Slavers, Remnants, Inusannon,
___________________________
Relation notes
Rila'Feela vas ToraMichael WolffMartin BannerRaik ArglackVail SeriaValona Agonis
___________________________
Buffs and Debuffs
10+ for all stealth actions.
5+ for taking time to line up a shot if using a marksmen weapon.
10+ for defensive rolls due to Raloi dexterity.
5+ for unarmed CQC rolls against humanoid opponents. (Takka Martial Arts)
Last edited by Kravis on Mon Feb 11, 2019 4:22 pm; edited 7 times in total

Kravis

Lead Coder




Posts

: 297


Join date

: 2018-01-12


Age

: 23


Location

: Santa Fe, Texas



Small update to location of origin. Some fixes. Relations to be updated soon

Kravis

Lead Coder




Posts

: 297


Join date

: 2018-01-12


Age

: 23


Location

: Santa Fe, Texas



small update, will edit later today

Kravis

Lead Coder




Posts

: 297


Join date

: 2018-01-12


Age

: 23


Location

: Santa Fe, Texas



---
Permissions in this forum:
You
cannot
reply to topics in this forum