Select Dossier File.
>...
>...
>...
> Raik Arglack
:: Raik Arglack Selected.
Loading Dossier File.
Loading...
Loading...
Personnel Identification Information.
Personnel Identification Image: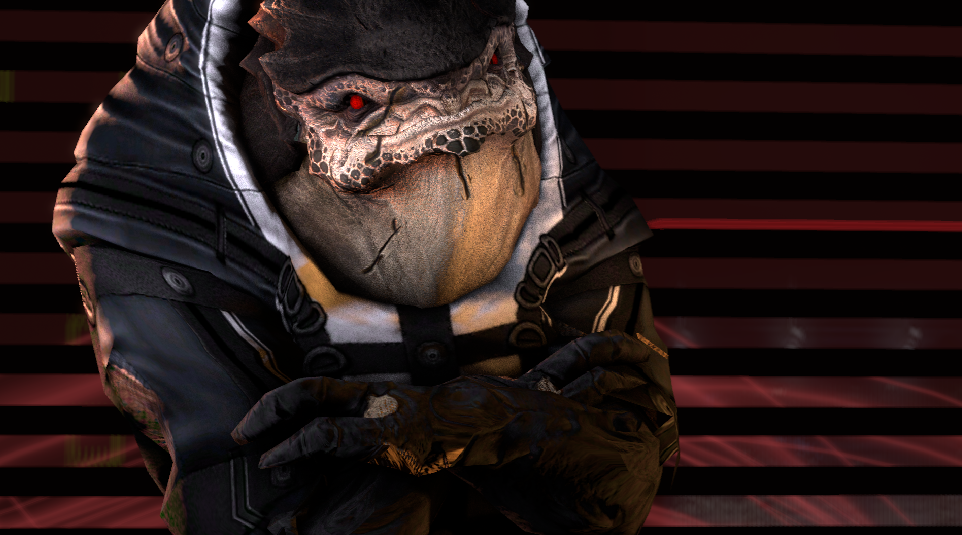 Name:
Raik Arglack
Aliases:
N/A
Gender:
Male
Species:
Krogan
Age:
503
Origin:
Tuchanka-born
Ranking:
N/A
Identification Tag:
5124-9512-RA
Physical Appearance:
7'6 ft , Black Crest / Plates / Tan Skin, Hide / Red Eyes / Several Scars over his visage, most looking old by now /
Vocal Sample:
___________________________
Personnel Training/Experience Information.
Training: Soldier
Assignment: 2MSRC
Operational Status: Active - INFECTED
Previous Occupation(s): SvC at the 2MSRC, The Raik Clan
Specialization: Close Quarters Specialist
Awards/Decorations: UNKNOWN
Battle/Service Record: UNDER REVIEW
Date Joined: 2186
Casualty Classification: N/A
Time Within Company: Roughly 40 years
___________________________
Organization Relationships.
Faction Allegiance:
2MSRC , The Krogan
Listed Liked Factions:
 Humans
Listed Disliked Factions:
Salarians, Batarians
Listed Neutral Factions:
Turians, Asari
Hostile Factions:
Slavers, Pirates
Personal Relationships.
Affectionate:
Liked:
Sanilra Edoris: She's a good girl, always enjoy talking to her when she's around; other than that she's a good combatant, but I guess that comes with being an Asari Commando, or, well, used to be.
EDIT: We've got to know each other more, she's supportive over the situation that's happening on Tuchanka, we get along well.
ALI-EDI.10478: Connie, my old friend, it's good to see you back.
SvC Emma Thatcher: The other Service Chief on the crew, daughter of Flynt.. we have good talks. I don't know where he is now, but i'm sure he'd be proud of where you are currently.
EDIT: I'm so sorry about what happened.
OpC Droko Compor: This batarian has surprisingly good leading skills; I may not like them, but this one is starting to grow on me.
EDIT: I like him, he's a good guy after all, even if him and Miller went through some complications, but I guess I won't get in the middle of it
Jack Miller: Draven's son, wasn't expecting to find him here; seems like he doesn't likes his father much but he's a good kid. Recently he had shit happen to him, just hoping this won't scar him for the rest of his life.
Neutral
1stLt Daniel Vernon: He's a good marine, puts his biotics to good use; he proved to be a worthy individual back at the prison, I want to see more of that.
LCpl Genesis: He's odd, usually he's standing there staring at me, or we'll talk about something completely random.. or he'll breach into rooms using a sniper rifle.
Anne Elizabeth: She's alright, we don't talk too much, but she's proven herself good.
EDIT: Damn those fucking gatolians.. they'll pay.
HA Nguyen Thi Kim-Ly: She's odd, think I should put her in a ring against Genesis to see who wins that competition.
EDIT: Poor lad has no experience with all this, i'm starting to like her but, she also needs to get used to this so more people don't die.
Disliked:
Jarik Kinaro: Stick your nose out of shit that doesn't matter to you, poster child.
Respected:
Douglas Boidheach: This man has been showing to be better than I expected him to be, he knows how to order things around and deal with problems whenever should they arise.. he's a good man with a clean head on his shoulders, and I like that.
Michael Wolff: He's a tough one, but that's what makes this human show, very responsible.
Feared:
Hated:
_______________________________
Personal History.
W I P
Last edited by Arglack on Thu Dec 20, 2018 11:59 am; edited 5 times in total

Arglack

Brazilian Turtle




Posts

: 5


Join date

: 2018-11-16



Added some Relations
Added Age

Arglack

Brazilian Turtle




Posts

: 5


Join date

: 2018-11-16



they did surgery on a grape

Arglack

Brazilian Turtle




Posts

: 5


Join date

: 2018-11-16



---
Permissions in this forum:
You
cannot
reply to topics in this forum