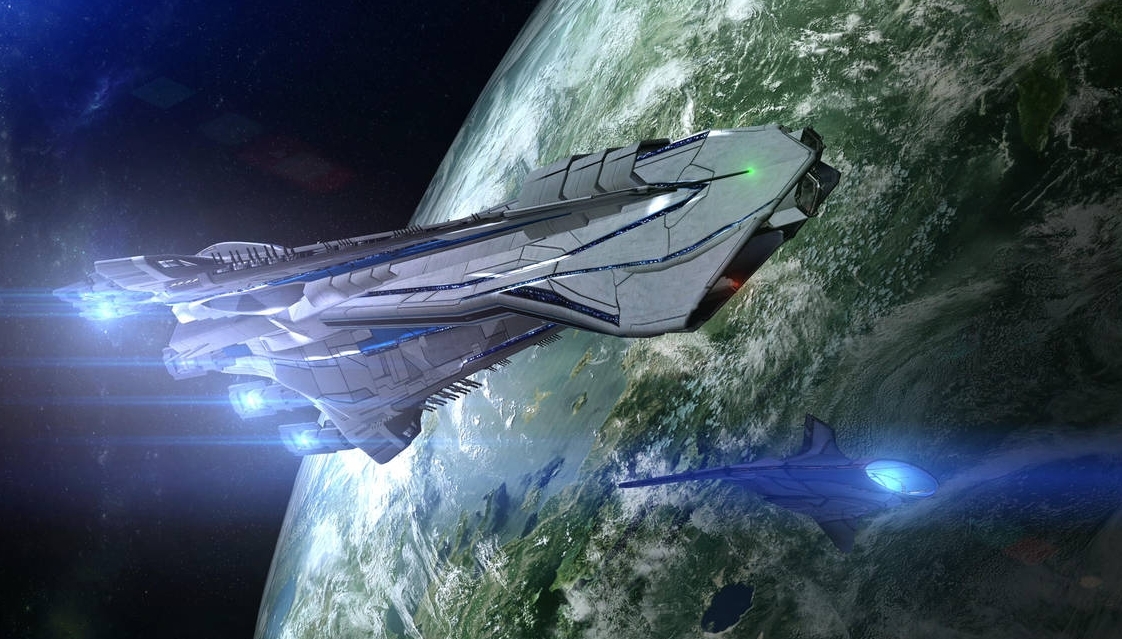 SSV Robert Oppenheimer underway in 2191, on an assistance mission with the Asari Republics Navy.
Ship Name:
SSV Robert Oppenheimer
Ship Class:
Super-carrier/Battleship
Ship Classification:
N7 Mobile Headquarters and Alliance Fifth Fleet Flagship
Crew Complement:
2,750 naval and 3,100 marines
Vehicle Complement:
80 A-61 Mantis Gunships, 300 UT-47A Kodiak Shuttles, 190 SX-3 Interceptors, 200 M-080 APCs, 200 M35 Mako IFVs, 100 M44 Hammerhead IFVs
Length :
1,803 Meters
Width:
511 Meters
Armament
Weapon Systems


1 Spinal XL Mass Accelerator

1 Spinal Dreadnought Thanix Cannon MK2

1 Spinal Javelin Disruptor Torpedo Array

114 Broadside Mass Accelerator Cannons (57 Starboard, 57 Port)

20 Heavy Missile Pods

Defensive Systems


Overcharged Reaper-Derived Kinetic Barriers

74 Point-Defense Autocannons

8 Hypervelocity Anti-Fighter Railguns

GARDIAN Laser Defense Grid

Propulsion & Power


Six XL Anti-proton Thrusters

4 Fusion Collider Plants

On-Board Fuel Refinery

ODSY Drive Core

Senors and Scanning


Thermographic Scanners

Radio Detectors

Radar

LADAR

High Frequency Geth-derived Scrambling Systems

Other


High Frequency Geth-derived Scrambling Systems

Modular Construction

SSV Robert Oppenheimer was commissioned in 2186 shortly before the arrival of the Reapers, named after 20th century theoretical physicist Robert Oppenheimer. It was designed as a mobile headquarters for the Systems Alliance's N7 Special Forces Program, as well as a last-ditch 'Noah's Ark' if humanity were to be pushed off of Earth by the Reapers. To that effect, it is fully self sufficient for up to 25 years, though post-war this functionality has been somewhat diminished to 15 years due to refits. During the Reaper War, it was used as the Headquarters of all Galactic Special Forces, and a majority of Hammer was deployed from it during the Battle for Earth. In 2189, it was refit with Reaper-derived technology and pressed back into service as the Flagship of the Fifth Fleet, after the SSV Kilimanjaro was damaged beyond repair. Fleet Admiral Steven Hackett commanded from the bridge of the Oppenheimer until he retired from service in 2215.
Current Status:
Maintaining occupation and security duties
Location:
Gatol

Lapis

Event Team Leader




Posts

: 78


Join date

: 2018-01-12


Age

: 19


Location

: San Antonio, Texas



---
Permissions in this forum:
You
cannot
reply to topics in this forum