Created by Kravis
The 
raloi
 are an avian species originating on the planet Turvess, who made first contact with the asari in 2184 after launching their first space telescope and discovering the asari cruiser Azedes in their system. They are a secluded species, and are currently not involved in galactic politics.
___________________________
(Raloin male warrior wearing ceremonial armor.)
Biology
Raloi are avian in appearance as they sport rows of feathers on their mane, their arms and legs as well as their back. Due to an outbreak of an alien flu virus among the raloi during the ceremonies held to welcome them to the galactic community, the raloi have to wear environmental suits while in contact with other alien species. However, this information is considered to be outdated as the raloi have been able to successfully vaccinate their population from Galactic diseases.
The Raloi are known to be dextro just as the Turians and Quarians are since they have a weak digestive system. Their blood matches the same of Quarians with theirs being purple. The males of the race are usually seen with broader shoulders and thicker muscles, their feathers are usually adorn with dull colors such as dark red, blue, grey, black and orange. The males also seem to be different from females with their eyes having a darker, orange color with pale pupils. The females of the species however seem to have brighter feathers such as white, yellow, green, purple, and pink and have yellowish eyes with pure black pupils. They have wider hips than males with slightly longer talons. Raloi have been noted to be give birth to live young instead of the once presumed egg layers. The skeletal structure and design of their muscular definition gives the raloi their distinctive physical advantage of being the most agile species currently known. Out pacing and out preforming the arts of Drell Assassins.
Raloi have been observed to have twice the lifespan of normal humans (Putting them around 300 years). The cause of this however is unknown. Be it by the way their muscular structure is or their skeletal system. One observed Raloi has said that he was a child when they were welcomed into society, served in their civil war through the Reaper War, and 40 years later afterwards is now fighting with a Alliance unit. Putting him around 60-70 years old. Yet they are still considered young by other Raloi that were interviewed.
___________________________
Culture
The culture of the raloi is based around the concept of a greater power at work in the universe. Having advanced rapidly from just a few short years after being discovered by the Asari; The Raloi display spiritual devotion to the concept of "The Path." A principle that has existed since the stone age. To them the Path is sacred and cannot be easily overlooked. (You can find more about The Path down below in the Religious tab.) Under the Path; Raloi are quick to accept new rules and policies as long as they do not interrupt the main ideals of The Path. As such, One cannot abide by a rule that would lead to war with themselves.
Family values are closely-knit. One family cannot disgrace the traditions of another. To do so is to break The Path as all are considered to be one whole. Many raloi families carry spiritual items of their own craft to keep the Skymother close to heart and the ideals of The Path clear to themselves while away for long periods of time.
The recent civil war and split from the Empire has led many of the Raloi into a spiritual crisis with many Loyalists testing their respect to the Emperor as many other sadden Fushan Reformists flee from their Emperor's tyrannical decisions. They feel The Path is at jeopardy of being destroyed.
--
Religion
The Raloi are very religious people. Regardless of theories or study. The Path cannot be disproven because it is not born of a single person's actions. But the collective soul of all. The Path is the belief that the Raloi are all connected to each other in one way or another. To do evil unto another is to hurt yourself in some way, shape, or form. Splits are uncommon. As they fracture and hurt the whole. Aliens who choose to believe in The Path are not shunned. But welcomed. It is because of this that the Raloi take great care when conducting missions and actions that affect the galaxy as a whole. As their sense of serving the greater good outweigh the personal belief. In such a way, They can be seen as kins of Turians. Although on a much more spiritual scale.
The only known 'deities' of The Path is the Skymother. The Skymother has no real name nor is it based off of any living being. It is the guardian of existance. She watches over all children of the galaxys, universes, dimensions and ensures that all those who pass on from their life reaches the next life peacefully or rests forever in Serenity, the Raloin depiction of a afterlife. To forsake the Skymother is to condemn yourself to a endless life of wanderlust after death. Until the soul itself shatters, and disappears.
The Path's religious order is known as the Guardian Order. Guardian Order members are much akin to Priests, Cardinals, Imams or Rabbi's. The general translation for their title translates to 'Father' or 'Mother'. Much like a Priest is sometimes referred to as 'Father'. However it is speculated the reason for this is because the Fathers and Mothers are closer to the Skymother than most. And that pieces of her live on into the mortal world through her children, who go on to be the guardians for other mortals. Hence the familial titles of Father and Mother.
According to certain individuals. The study of other race's religions is handled strictly by Imperial Guardians. Not because they distrust other's beliefs. But because they record and keep logs of their religions on Turvess. So that future generations can study the galaxy's traditions without intervening.
___________________________
Government
The current government that controls the Raloi is a Imperial Reign dictated by a Emperor. As of 2226, Emperor Kay'ble is the ruling leader of the Raloi Empire. He controls all changes to the Empire's doctrine and his word is law. A Emperor is expected to be a devout follower of The Path. Meaning should he stray and try to subjugate those who'd oppose him. He'd be seen as a heretical traitor.
Raloi colonies and territories are ruled by Sects. These Sects are council elected members of colonies that report their grievances to the Emperor for him to be aware of. Without the Sects there would be no law beyond the space of Turvess. And as such the Sects are expected to remain loyal to the Emperor in order to uphold The Path. So long as the Emperor does so vice versa.
Local governments are lead by Elders deemed trustworthy of making decisions affecting the many. Meaning that there is little in the way of government unless you travel to the Sect itself.
_______________________________________
Military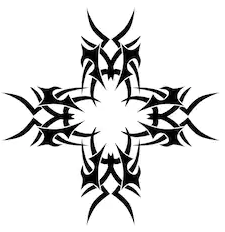 (Emblem of the Khizok)
The Raloi's military consists of generations of warriors who were born for greatness since drawing their first breath. Although the Khizok allows for recruitment, most soldiers are drafted at a young age in cases of being promising warriors, famous clans, or descendants of legendary heros. Those who serve in the Khizok have higher regards as oppose to those who are only civilians. They are granted rights such as having the ability to marry one who is already being considered by a another civilian male and carrying weapons on themselves openly among other things. The ranking system inside the Khizok is fairly strange but not entirely confusing.
Before the introduction of mass accelerator weapons, Raloin' equipment tended to use electronically charged ballistic ammunition or plasma firearms. However, Since they have rejoined the galaxy the military has chosen to adopt the mass accelerator firearms as their standards. Old plasma and electro weapons are now strictly collector items or home-defense weapons.
The Kozvaks (K-ohz-vah-kss) - Generals of the empire, They are ruthless, unnerving and proven in the field of combat. Example being Kozvak Ray'din. Leader of the Turvess military garrison.
The Canahoks (Cah-na-hawks) - Considered by the Alliance military to be the main embodiment of CO's, They command most ground forces through their lesser ranks. Examples Canahok Kres'nok, Canahok Ob'y, Canahok Dill'un
The Kreen (K-reen) - NCOs of the Chinzei, They take lead over squads and lead standard units into battle, They are only chosen by those who prove their honor in combat and who have faced five Raloi warriors in honorable combat and have survived. Examples Kreen Aue'drye, Kreen Na'lor, Kreen La'anss
The Kayl (K-ail) -  Standard warriors of the Chinzei, Anyone can join the Chinzei, But only those who survive their first battles and their first duals will become Kayls, All others are either killed in combat honorably, or serve as lesser troops, those who fight out of redemption. Examples Kayl La'ri, Kayl J'on, Kayl B'laek
All ranks are ordered by by three tiers that translates to the examples being;  First Kayl, Second Kayl, Third Kayl.  First Kreen, Second Kreen, Third Kreen. etc.
_______________________________________

Vasiil

Owner




Posts

: 303


Join date

: 2018-01-19



Major revamp inc tonight as well as more Raloi lore.

Kravis

Lead Coder




Posts

: 297


Join date

: 2018-01-12


Age

: 23


Location

: Santa Fe, Texas



Updated for now. Might add more later.

Kravis

Lead Coder




Posts

: 297


Join date

: 2018-01-12


Age

: 23


Location

: Santa Fe, Texas



Some cleaning up done, added to religion.

Kravis

Lead Coder




Posts

: 297


Join date

: 2018-01-12


Age

: 23


Location

: Santa Fe, Texas




Kravis

Lead Coder




Posts

: 297


Join date

: 2018-01-12


Age

: 23


Location

: Santa Fe, Texas



Updated some little info on the codex. Also. If you want to play a raloi, here is two default pacs I made to get you started.

Male Raloi

Female Raloi
(Doesn't include a helmet, couldn't find a good one. Comes with a mask instead for no oxygen situations.)


Simply copy the pastebin links and you can do a 'load from URL' in pac3 while in game. Then just save the pac.

Kravis

Lead Coder




Posts

: 297


Join date

: 2018-01-12


Age

: 23


Location

: Santa Fe, Texas



---
Permissions in this forum:
You
cannot
reply to topics in this forum