>... UNSC CSV
>... UNSC NAVAL HOSPITAL CORPS
>...  8TH MEF ATTACHED CORPSMAN..
>...  ::
HM3. Felix Meyer
Loading CSV File.
Loading...
Loading...
Personnel Identification Information.
Personnel Identification Image: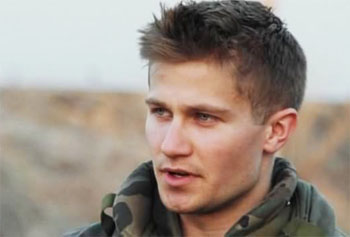 Name:
Felix Meyer
Known Aliases:
'Doc'
Age:
24
Gender:
Male
Religious Preference:
Catholic
Homeworld/Province:
City of Vallejo, Ballast. UEG inner colony.
Spoken Language(s):
English, German.
Personal History:
Spoiler:

Felix was born to a medium income house hold in the Colony city of Ballast, his father worked construction while his mother was a nurse. He averaged good grades in school and played soccer and hockey. He joined the UNSC Navy right out of high school for his willingness to serve and the propaganda for the war effort. His high marks and interest in the medical field opted him to serve with the Hospital Corps.
___________________________
Personnel Military Information.
Training:


UNSC Navy Boot Camp

UNSC Naval 'A' School - Hospital Corpsman Training

Field Medical Service School

Special Operations Combatant Medic Course

Marine Force Recon Training and Selection

Specialization:
 HM-8427 Marine Force Reconnaissance Corpsman
Rank:
HM3 (E-4)
Assignment:
8th MEF, 8th MEB, 36th Marine Regiment, Fox Reconnaissance Platoon
Operational Status:
Active Duty
Military History:
Spoiler:



Enlisted in 2541 in the UNSC Navy, contract included Field Medical Service School.

Completed training in 2543 Boot camp, 'A' School and FMSS

Assigned to the 17th MEU supporting marines in the 1st Battalion, 34th Marine Division.

Served in minor engagements with the Insurrectionists until in early 2545 the 17th MEU was tasked to return to Draco III to terminate any left over Covenant threat.

Saw minor combat with the Covenant before requesting Candidacy to Force Recon in 2546, entered Special Operations Combatant Medic Course and completed it before being assigned to Marine Force Recon Training and Selection and got orders to a new unit of the 8th MEF, 8th MEB, 36th Marine Regiment, Fox Reconnaissance Platoon

Casualty Classification:
N/A
Time In Service:
6 Years
Service Tag:
13718-67429-FM
___________________________
Character Relationships
Battle Buddy | Strong Friendship | Friendship | Indifference | Dislike | Hatred
Last edited by Sillykilla on Sun Jul 29, 2018 7:05 pm; edited 1 time in total

Sillykilla




Posts

: 29


Join date

: 2018-07-09




Pepper

Senior Admin




Posts

: 87


Join date

: 2018-01-12


Location

: Houston, Texas



---
Permissions in this forum:
You
cannot
reply to topics in this forum