Select File.
...
...
...
Systems Alliance Normandy-class Stealth Frigate ::
Systems Alliance Normandy-class Stealth Frigate selected.
Loading File...
Loading...
Loading...
Ship Size Category:
Frigate
Ship Classification:
Stealth Reconnaissance
Capacity:
22 crew and 36 marines | 1 M35 Mako Infantry Fighting Vehicle and 1 UT-47A Kodiak Drop Shuttle
Length:
216 Meters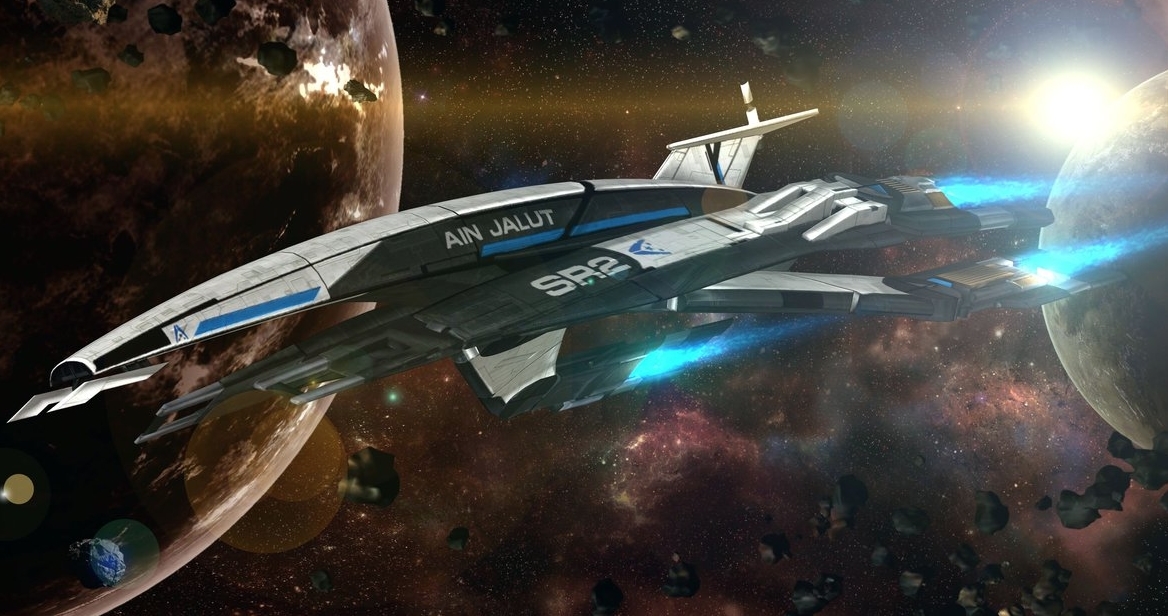 SSV Ain Jalut, the second Normandy-class vessel constructed.
Armament
Weapon Systems


Javelin Disruptor Torpedoes

Spinal-Mounted Mass Accelerators

Defensive Systems


Kinetic Barriers

GARDIAN Laser Defense Grid

Propulsion & Power


Antiproton Thrusters

Fusion Collider Plant

Tantalus MK1 Drive Core

Senors and Scanning


Thermographic Scanners

Radio Detectors

Radar

LADAR

OtherSystems Alliance Alamo-class Destroyer
The original SSV Normandy was a prototype and was never intended to be duplicated, however Alliance Command quickly decided it should be made a class, and two additional frigates were constructed and commissioned together, SSV Ain Jalut and SSV Constantinople. After the destruction of SSV Normandy, a fourth vessel was commissioned, SSV Gettysburg.
The Normandy-class is designed as a stealth reconnaissance frigate, and is the first vessel able to sink its heat within its hull to hide from enemy sensors. It is able to quickly and covertly enter an area of operations, complete its mission and leave undetected, as well as screen larger vessels with its GARDIAN systems while remaining undetected.
The Normandy-class is unique in that it is captained only by renowned officers of the Alliance Navy, and its crews are considered the most highly trained in the entire Systems Alliance.

Lapis

Event Team Leader




Posts

: 78


Join date

: 2018-01-12


Age

: 19


Location

: San Antonio, Texas



---
Permissions in this forum:
You
cannot
reply to topics in this forum