Select Dossier File.
>Whitney Abbot
>Hekoh Thouk
>Bris
> Barrik Volgun
:: Volgun, Barrik Selected.
Loading Dossier File.
Loading...
Loading...
Personnel Identification Information.
Personnel Identification Image: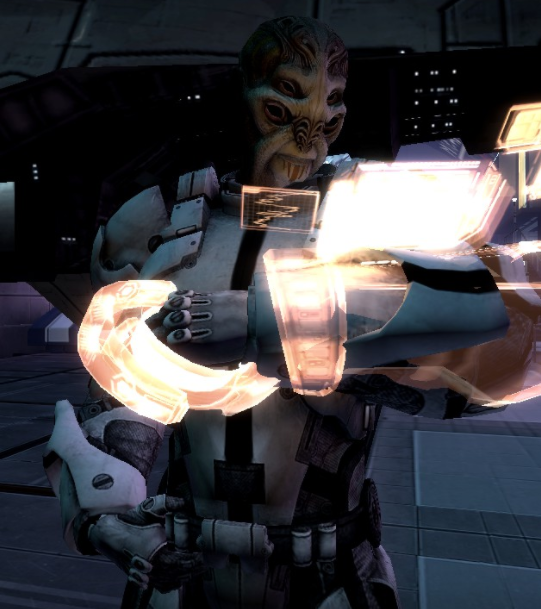 Name:
Barrik Volgun
Aliases:
'Outcast-Nine'
Gender:
Male
Ranking:
SIU-(Sergeant)
Identification Tag:
9131-9993-BV
Physical Appearance:
A 6'4ft tall masculine batarian wearing Hegemony SIU-Heavy armor with black stripes painted on a white chassis. He has brown skin with orange facial and pigment markings. He speaks with a gruff but calm tone.
Vocal Sample:
(Bray - Mass Effect 3: Omega)
(0:06-0:17 | 3:22-3:39)
___________________________
Personnel Training/Experience Information.
Training:
 Batarian Hegemony Special Intervention Unit, Special External Forces
Assignment:
SR-Barbarossa
Operational Status:
Active
Previous Occupation(s):
SIU-56, Kar'Shan (Deserted)
Specialization:
Combat Engineer
Awards/Decorations:
None
Battle/Service Record:
(Unoffical) Skyillian Blitz, Torfan Defense, (Official) Raid on UMS Tinar, Battle on Midu Colony
Date Joined:
2183
Casualty Classification:
[N/A]
Time Within Company:
5+ months
___________________________
Organization Relationships.
Faction Allegiance:
Listed Liked Factions:
Mercenaries | Turians, Krogan,
Listed Disliked Factions:
Slavers | Salarians, Vorcha, Volus, Geth, Asari
Listed Neutral Factions:
Pirates | Humans, Batarians, Drell,
Hostile Factions:
Geth, 'The Reapers'
Personal Relationships.
Affectionate:Benya Volgun:
"Hoping this 'Seer' isn't bullshitting me on this deal, Benya, because if he is, then there's gonna be hell to pay. Hopefully it doesn't come to that, Just stay out of trouble while I'm gone, sis."
Kolin Volgun:
"Wish you came along for the ride, But you seemed happy, happier than the time you spent with Dad and the gang. I hope you find yourself a nice woman to marry while on Illium, plenty of pretty ones, especially prettier than you. Hah! Stay safe brother."
Respected:Liked:James Moore:
"He's inclusive and not very talkative,  Considering he isn't using his real name I'm guessing he's worse than Bris. Seems friendly enough though."
|
"He's useful just really quiet. Doesn't like to talk much beyond what to do on the ship."
|
"Really loves to run his mouth."
NeutralCaptain Gabriel Staffen:
"I don't know much about Staffen. I hear he's Ex-Alliance. And that messed up face of his has a story for it. A lot of people trust him to lead this crew. He trusts me enough to take command in the field. But I'm still wondering exactly who he is."
Hekoh Thouk:
"I don't know what to think about him. I've never seen many Drell before, so I can't say if he acts weird or not. He's a powerful biotic, that's for sure. Should talk to him when I get a chance."
|
"Needs to chill out with the philosophical bullshit. Seriously, This guys like a preacher's book. I get what he's sayin' but he needs to tone it down with the mumbo jumbo."
Disliked:'Bris':
"The acting Captain of the crew after the previous one was arrested by the Alliance. I don't see how a quarian could be capable of captaining a vessel like this, But she's sure got enough of a cold heart for it."
|
"She's gettin' paranoid about how she's running this crew. Something about her is just putting me off. And after that run in with that turian it seems like she's got more than just skeletons in her closet."
|
"Title ripped from her and put into the dirt on the same day. Not how I want to go out in the end."
Hated:
Feared:
_______________________________
Qualifications
wip
Last edited by Kravis on Mon Jul 09, 2018 11:50 pm; edited 3 times in total

Kravis

Lead Coder




Posts

: 297


Join date

: 2018-01-12


Age

: 23


Location

: Santa Fe, Texas



Not a big relation update.

Kravis

Lead Coder




Posts

: 297


Join date

: 2018-01-12


Age

: 23


Location

: Santa Fe, Texas




Kravis

Lead Coder




Posts

: 297


Join date

: 2018-01-12


Age

: 23


Location

: Santa Fe, Texas



hmm, I wonder who the new captain is gonna be

Pepper

Senior Admin




Posts

: 87


Join date

: 2018-01-12


Location

: Houston, Texas




Kravis

Lead Coder




Posts

: 297


Join date

: 2018-01-12


Age

: 23


Location

: Santa Fe, Texas




Kravis

Lead Coder




Posts

: 297


Join date

: 2018-01-12


Age

: 23


Location

: Santa Fe, Texas



---
Permissions in this forum:
You
cannot
reply to topics in this forum